No matter what industry your business is in, a large percentage of potential customers are going to search for your product or services on Google search results. Google is easily one of the most popular search engine in the world, accounting over 91% of the search engine market share in 2022. As a business owner or marketer, you want to be maximising your visibility on Google Search and make sure your business stands out to your target audience, especially on relevant local search results.
What is Google My Business
Google My Business (GMB) is a free tool that help local businesses promote their business on Google. You get to create and manage your Google Business Profile which list your business location on Google Map, and display other important business information such as business hours, business description, contact details, physical store locations, website address, business reviews and more. This allows more customers to discover, visit or shop from you easily when they google search for your business name or services.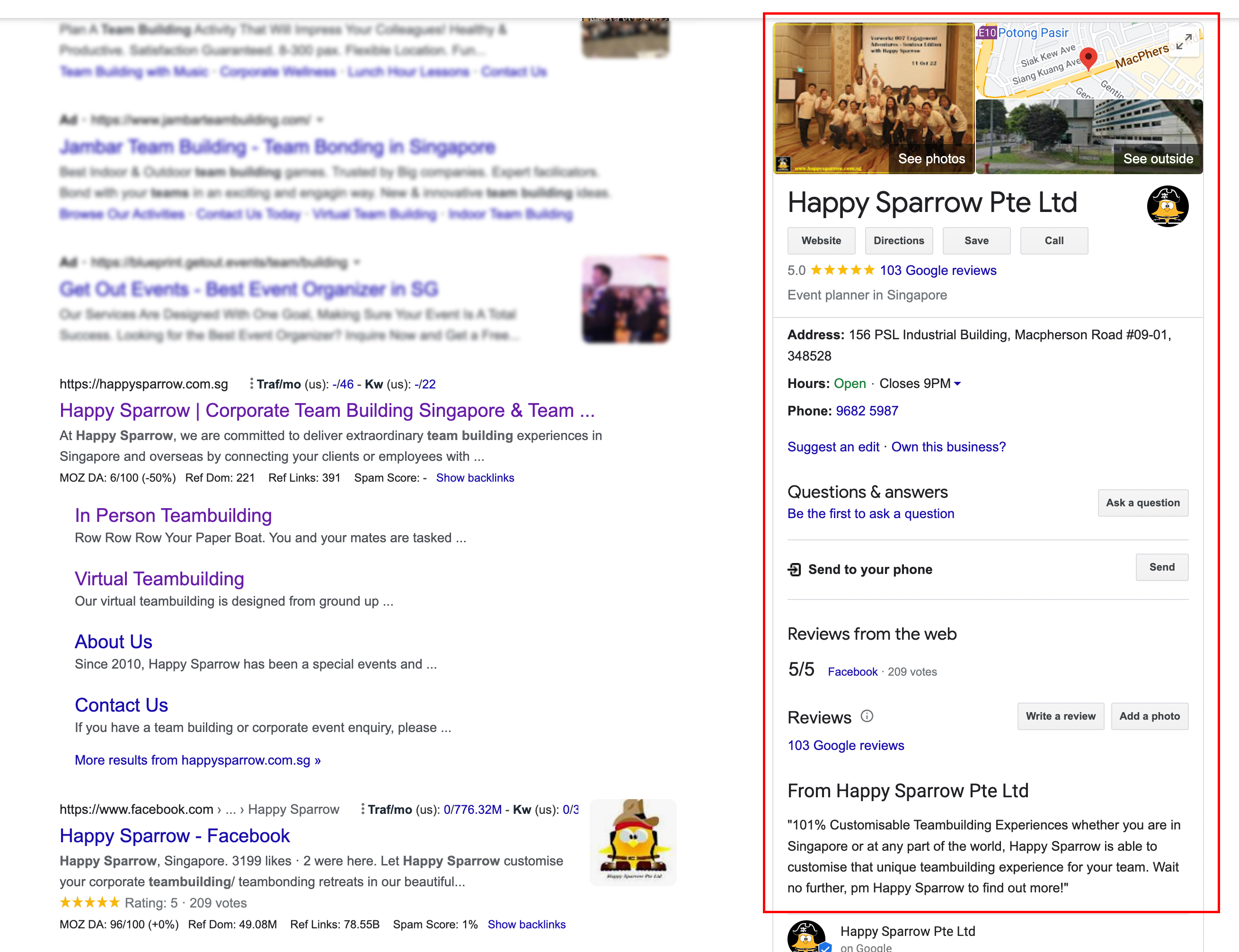 Key Business Benefits Of Having A Google Business Profile
For some people, they may heard of Google My Business, but have no clarity in how creating a business profile listing on Google can give a boost to their business or sales funnel. Below we will share some key benefits on why you should have an online profile on Google.
Boost visibility not only on Google search and Google Maps, but also foot traffic
As part of any online marketing strategy, it is essential to have qualified web traffic. Studies have shown that businesses with Google My Business listings are 70% more likely to attract potential customers to visit both online and in-stores.
Build trust with new customers
One of the greatest benefit of having a Google Business profile is building trust with potential customers. This is especially important for small businesses, where reputation and trust is a key consideration when it comes to making purchase decisions.
Boost conversion rate and drive sales
Building trust with potential customers is especially important for small businesses, where reputation and trust is a key consideration when it comes to making purchase decisions. As a SEO company in Singapore, we had the experience with a client whom reaped the benefits from Google My Business. The client had a brick and mortar store and was in the infant phrase when it comes to online digital marketing strategy. As part of our local SEO strategy, by creating a Google Business Profile with complete information and accumulating positive reviews, the business had seen an incremental growth in enquiries and sales within the first 6 months!
Boost local SEO efforts
As part of an SEO strategy, having a Google My Business listing contributes to boosting a business's search rankings. Google wants to provide users with valuable information. Hence, the more Google knows about your business, the more it favours you and the higher it ranks you on the Google search results and Google maps.
Having relevant keywords, especially high-volume search term with local intent related to your industry, product or service, help Google understand and better rank your website for relevant search queries.
How To Optimise My Business Listing
Many businesses are competing for targeted visibility on local searches and be ranked by Google. As part of the overall marketing strategy to gain incremental market share in the short and long term, they may conducting a two-pronged approach with SEO and Google Ads. This means, potential customers will be comparing you to your competitors.
As such, optimising your Google My Business Page will help you make the best first impression to potential customers when they compare among various business profiles. Here are few ways you can go about enhancing your business profile.
Accumulate Positive Reviews
Speak to any marketer and you know that social proof are highly valuable data to a business. In today's time, people are checking out other reviews before choosing which local business to shop from. Brands whom accumulate positive reviews on their Google business listing can be a strong deciding factor that drive enquiries and sales, as compared to brands without a google listing or have no online reviews.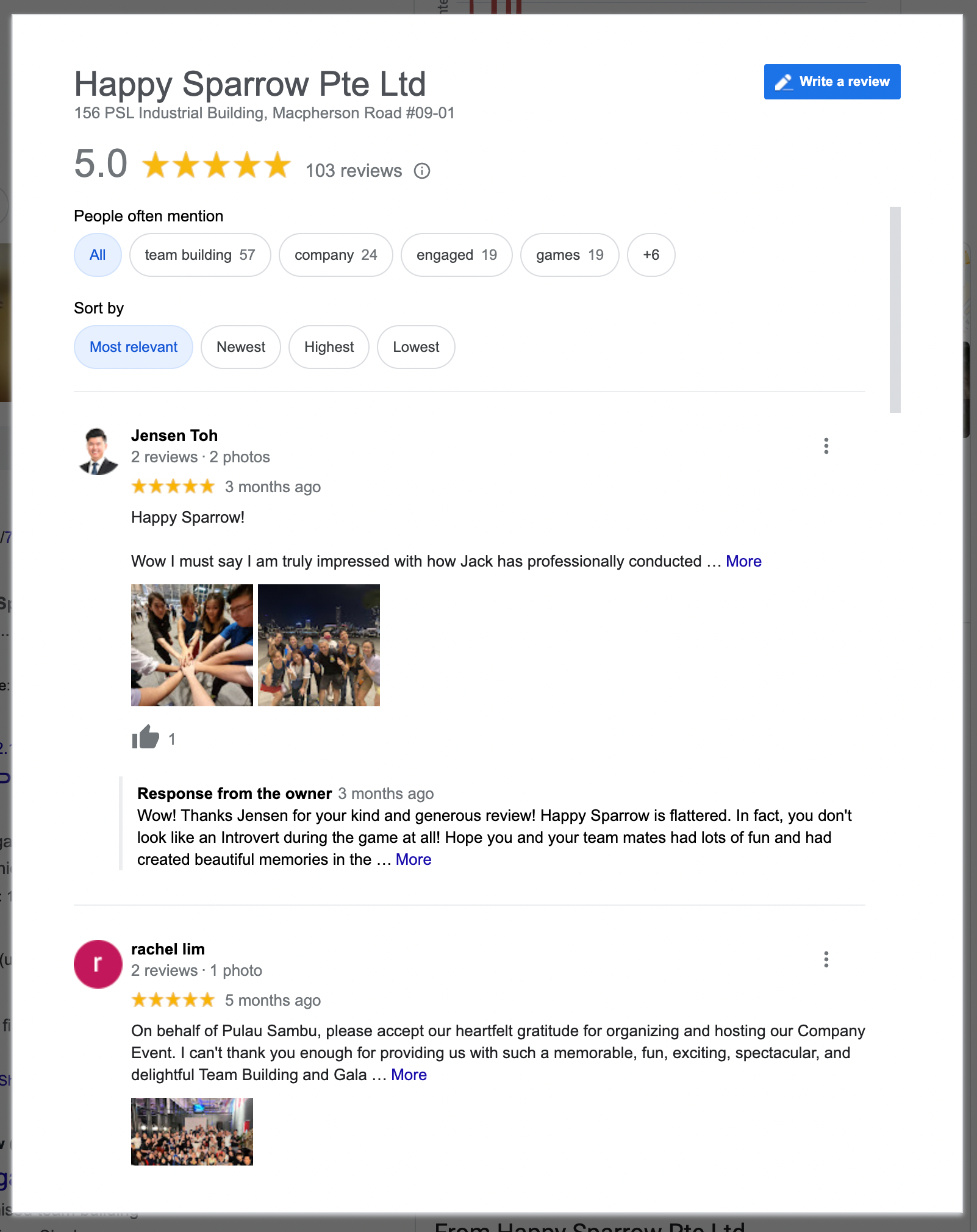 If you do not have any online reviews yet, you want to kickstart asking your customers for reviews after providing them a great experience. Simply provide them the direct URL to request them to review your business.
Keep Your Business Listing Up To Date With Accurate Information
If you have an existing Google business profile that displays inaccurate information (e.g. business hours or contact information) or reviews that are dated 2 years or more, this is going to impact the level of trust in your business, and have customers left wondering if your business is legitimate or still operating. A potential customer may be deterred to patronise your business.
Do also add up to date images of your business location and in-store experience, which can best showcase your business credibility and help shoppers feel confident to visit you in store.
Respond Professionally To Negative Reviews
It may be inevitable to receive poor reviews when running a business. Google do not allow a simple "delete" option for reviews. It requires either the person who posted the review to delete it, or the business to "flag the review as inappropriate" to alert and follow up the communication with Google. However, this process may be slow, time-consuming and it does not guarantee the review will be removed.
Hence, it is highly advisable for the business to respond in a professional brand voice. Be genuine and take the opportunity to correct and improve the customer experience. This shows other new customers that the business is pro-active in improving customer experiences, and hence influences their perception of your brand, and eventually their purchasing decisions.
Publish Google My Business Posts To Grab A Searcher's Attention
GMB posts is somewhat similar to social media posts, where you can use a combination of images, text and a Call-To-Action to publish a meaningful message to potential customers who will view it when they search for your business name or view your Google My Business profile on Google Maps.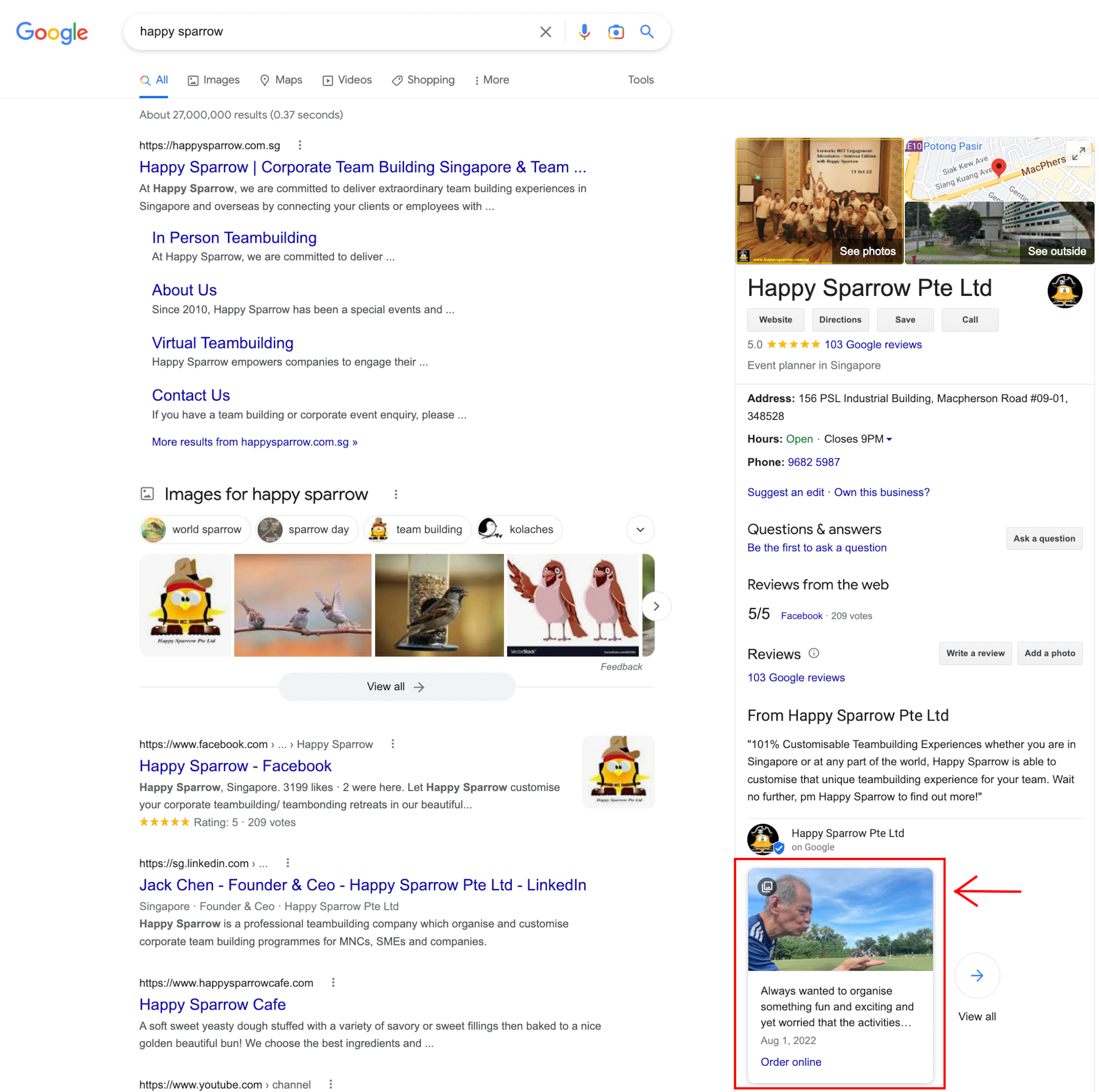 If you want to get an edge over your competitors, you want to make time to create meaningful marketing messages and publish posts on GMB. This will increase your chance to convert genuine, warm leads when they google search and are ready to convert.
How To Set Up Google My Business Account
If you are new to setting up a free profile on Google My Business, refer to the step by step guide or video provided by Google here.
You will be able to configure your business information in your GMB account. To verify your location, Google will be mailing you a letter with a five-digit code to activate your business account. This is required for verifying your business.
Once you have create or claim your "Google My Business" listing, it may take up to 1 or 2 weeks for your business listing to show up on relevant organic search results, Google Maps and even Google Shopping.